Supermarine Spitfire
Supermarine Spitfire adalah salah satu jenis pesawat tempur pemburu yang dimiliki Angkatan Udara Britania Raya (RAF) pada Perang Dunia II. Pesawat jenis ini menjadi terkenal setelah berhasil mengimbangi dan bahkan mengalahkan pesawat-pesawat milik Jerman yang saat itu diakui lebih maju teknologinya, dalam "Pertempuran Britania" (Battle of Britain).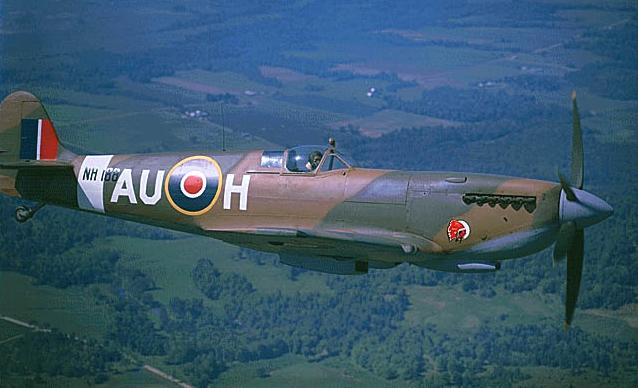 Berikut adalah spesifikasi berbagai spitfire:
* Mk IB: Four 7.7-mm (0.303-inch) guns and two 20-mm cannon;
* Mk VA/B/C: More powerful Merlin engine, provisions for drop-tanks or bombs, wing and armament changes;
* Mk VII: High-altitude interceptor with pressurized cockpit and retractable tailwheel;
* Mk VIII: Pure fighter with un-pressurized cockpit;
* Mk IX: Two-stage Merlin engine mated to Mk V airframe;
* Mk XIV: Griffon 65/66 engine with five-bladed propeller, strengthened fuselage, broad tail, late models had bubble canopy;
* Mk XVI: Packard Merlin engine, many had bubble canopy;
* Seafire Mk IIC: Catapult hooks and strengthened landing gear, Merlin engine, 4-blade propeller;
* Seafire Mk III: Double folding wings and 1,585-hp Merlin 55 engine.